New Jeep 2019 Jeep Grand Cherokee Lease and Specials near Chicagoland for Sale in Antioch IL l Chicago area
2019 Jeep Grand Cherokee Lease and Specials near Chicagoland
---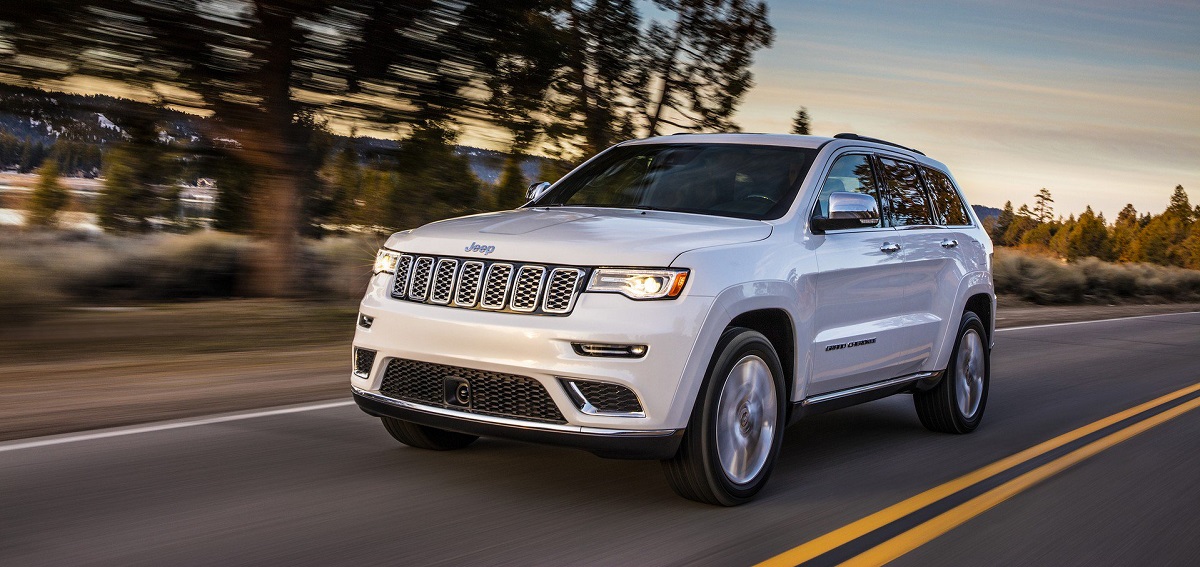 Jeep Grand Cherokee Lease Specials and Finance Offers in Antioch near Chicagoland
Why Lease or buy 2019 Jeep Grand Cherokee near Chicagoland
Drivers here in Chicagoland are just as wild about crossovers as anyone else. The numerous options for seating and storage space arrangements along with a commanding view of the road are irresistible. With the crossover's roots in vehicles pioneered by Jeep, you'd expect them to be experts on the subject. This quick glimpse at the Jeep Grand Cherokee's attributes would back that expectation up.
*Not actual vehicle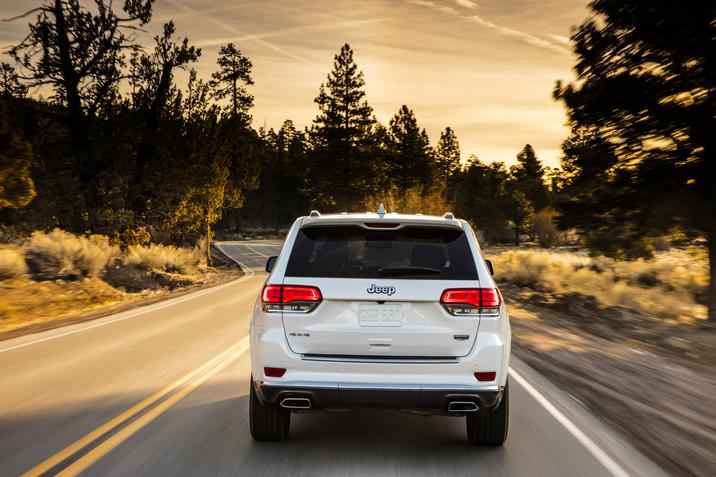 Exterior – Jeep Grand Cherokee
The 2019 Grand Cherokee serving Chicago drivers retains those little reminders found in all Jeep offerings of the line's origins as a utilitarian military vehicle. There are the familiar angular wheel wells along with an overall silhouette that's no-nonsense. There's also the practical high clearance, 8.6 inches, that clearly indicates this Chicagoland crossover isn't just for paved thoroughfares. Combined with these basics are more elegant touches that make it the equal of the most stylish competitors. Subtly raised creasing enhances the hood while side doors enjoy the addition of an embossed rectangle stretching between wheel wells. Leading the way, a pair of hawkeye-shaped headlights embrace the classic Grand Cherokee upper grille featuring a series of angular portholes. A single wide lower grille provides the right counterbalance. In back, taillights possess the basic design as their front counterparts.
*Not actual vehicle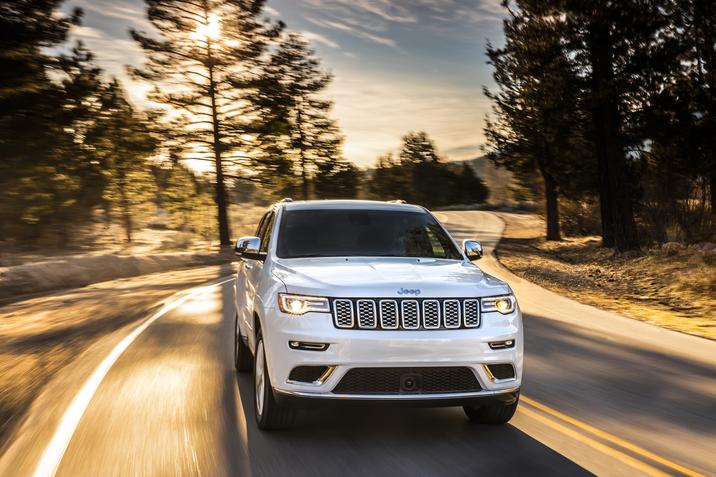 Interior – 2019 Jeep Grand Cherokee
Supplying ample volume inside, the Chicagoland Grand Cherokee provides overhead leeway of 39.9 inches up front and 39.2 inches in back. Room for legs is also roughly equitable with 40.3 inches in the first row and 38.6 inches in the second. The Grand Cherokee is just as generous horizontally with 57 inches for hips up front and 56.2 inches in back. Things open even farther for shoulders with 58.7 inches in the front and 58 inches in back. The same consideration is given to freight with 36.3 cubic feet available when both seating rows are in place. Taking the second seat tier out of the way moves payload space up to 68.3 cubic feet. Of course, with a 60/40 split seatback, it's easy to create half-spaces for those smaller packages.
*Not actual vehicle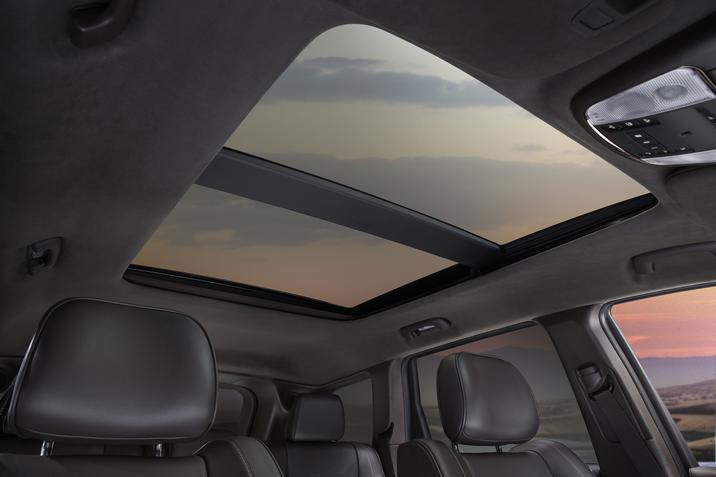 Mechanical – 2019 Jeep Grand Cherokee
The 2019 Jeep Grand Cherokee has 5 options for getting from place to place. In basic mode, a 3.6-liter V6 performs the job with 295 horsepower. It's matched with an 8-speed automatic transmission, the same one applied to all engine choices, to provide 18 mpg city and 25 mpg highway. There's more vim available from the 5.7-liter V8 that cranks out 360 horsepower while giving 14 mpg city and 22 mpg highway. The biggest block in the lineup is undoubtedly the 6.4-liter V8 making 475 horses. Maximum muscle of 707 horsepower comes from the 6.2-liter supercharged V8 serving Chicago drivers in the Trackhawk model. At the other end of the spectrum, a 3-liter turbodiesel V6 with 240 horsepower at just 22 mpg city and 30 mpg highway. With a torque capability of 420 lb-ft, it can pull up to a 7,400 lb trailer.
*Not actual vehicle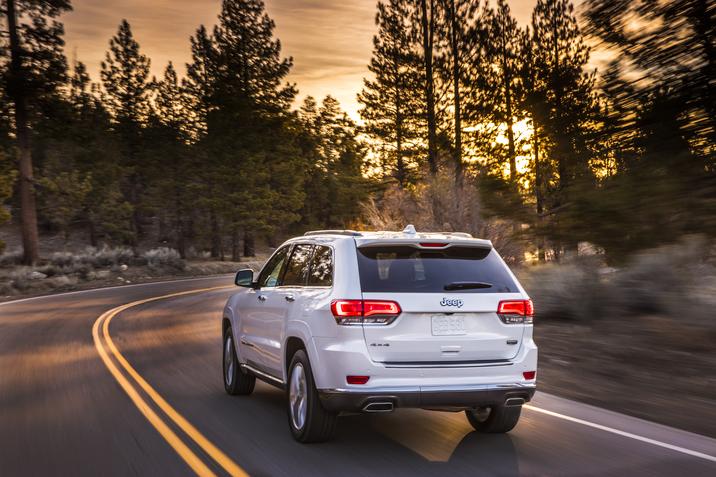 Request 2019 Jeep Grand Cherokee Specials in Antioch near Chicagoland
Jeep embeds safety into the Antioch Jeep Grand Cherokee at every turn in the manufacturing process. This starts with unibody construction that imparts crumple zones on the vehicle in front and in back to absorb impacts. Along with features like traction and stability control, airbags, antilock brakes, and a rearview camera, it all came together to earn the Grand Cherokee the rank of Good in moderate overlap front crash testing, side impact testing, and roof strength testing from the IIHS. The Grand Cherokee serving Chicago drivers also incorporates safety technology with blind-spot monitoring, rear cross-traffic alert, hill start assist, and ParkSense rear parking assist that automatically stops the vehicle when detecting a potential collision. Forward impact alert with automated braking and lane departure with automated correction are part of the High Altitude, Summit, SRT, and Trackhawk models.