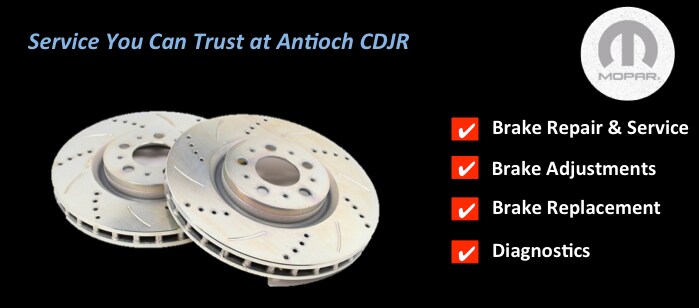 Have you ever heard the saying, "An ounce of prevention is better than a pound of cure?" It basically means that you're better off getting preventative maintenance done than fixing something once it's broken. The same is true for the brake system on your Chrysler, Dodge, Jeep or Ram vehicle. Brakes are perhaps your vehicle's most important system. Driving is a lot more dangerous without properly functioning brakes and our team of service professionals has the knowledge and experience to keep your brakes functioning in Antioch, IL.
Chrysler, Dodge, Jeep & Ram Brake Service 
The service team at our CDJR service center in Antioch, IL are capable of every aspect of brake repair and service. It doesn't matter if you need new brake pads on a Dodge Dart or new cylinders on a Jeep Wrangler, our team has the knowhow and MOPAR parts to keep your brake system stopping properly. We have a wide array of brake services available to Antioch, IL area drivers. These services include:
Brake Pad Replacement

Caliper Replacement

ABS Inspection

Rotor Inspection

Brake Fluid Replacement and Top Off

Parking Brake Inspection
Get Your Brakes Serviced 
Your brakes will usually tell you when your brakes need service. There are several important signs that Chrysler, Dodge, Jeep and Ram drivers need to keep an eye out for in Antioch, IL.

A grinding or squealing noise when you press on the brake pedal

Your car, truck or SUV pulls to one side while braking

Your vehicle needs more distant to stop properly

Your brake response is slow or it feels like you're stepping in mud

The brake pedal requires A LOT more pressure than previously
Any CDJR vehicle displaying one or more of these telltale signs needs brake service at the service center at Antioch CDJR. Our diligent team of technicians will inspect, diagnose and repair your brakes as quickly and safely as possible.

Schedule an Appointment Today

We have appointments available almost every day at our Antioch CDJR service center and it's never been easier to make an appointment with our straightforward online appointment form. If your brakes have any issue, let our expert technicians take a look. Get in touch with our team through our home page, by phone or visit our CDJR service center during business hours for additional information.