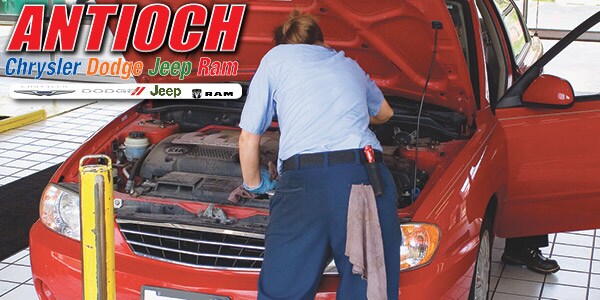 Engine Tune Up Services in Antioch, IL
Eventually, every engine on every vehicle requires a tune-up at some point. Antioch, IL area drivers should wear it as a badge of honor that their vehicle made it intact to its 100,000 mile tune-up and bring their vehicle to the service center at Antioch Chrysler Dodge Jeep Ram. Our team of service technicians have seen the insides of every engine that Chrysler makes. They have the tools and the knowhow to get your engine tuned up and running like it did when the car first rolled through the Antioch, IL area. 
Engine Tune-Up Step One: Visual Inspections
The first step of an engine tune-up is a simple visual inspection of the fuel system and engine components. The auto service technicians at the Antioch CDJR service center will pour over almost every inch of your vehicle's engine and fuel system to ensure that it's running at peak efficiency.
Inspect the fuel filter to make sure it's clean and free of sludge.
Inspect the spark plugs to check their age and wear level.
Inspect the fuel system to see if harmful deposits are building up inside your engine.
Inspect the PCV valve.
Inspect the engine air filter and cabin air filter.
Check all engine fluid levels.
Engine Tune-Up Step Two: Performance Check
Next, the auto service technicians at the Antioch CDJR service center will check your engine's performance. Engine performance can be checked and inspected in several different ways and our team performs several independent inspections to make sure we look at everything.
Check spark plug performance to make sure they're functioning properly.
Make sure that the spark plugs are igniting the gasoline and that the spark is the correct color.
Check the engine timing and idling and make adjustments if necessary.
Engine Tune-Up Step Three: Replacement and Repair Services
The final step in the engine tune-up process is replacement and repair. The auto service technicians will replace every component that shows excessive wear or sludge build up including spark plugs, the condenser, contact points and filters. After all components are repaired or replaced the service team at Antioch CDJR thoroughly tests and rechecks the engine to make sure that it's functioning at peak capability. 
Get Engine Tune-Up Service at Antioch Chrysler Dodge Jeep Ram
The service team at the Antioch CDJR service center has appointments available for engine tune-up services almost every day. If your Antioch, IL area vehicle is idling rough, sounding sick or performing sluggishly, it's time to bring it in for a tune-up. Get in touch with our team through our website, by phone or visit our Antioch, IL service center during operating hours to set an appointment today.