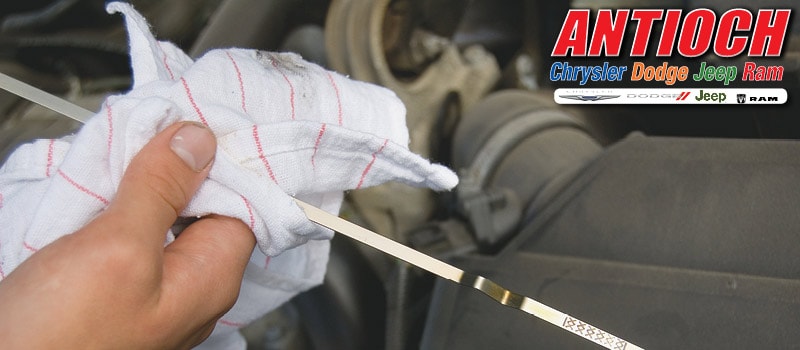 With as much as you paid for your Jeep, Dodge, Chrysler or Ram vehicle, you want it on the road as much as you need it. Our certified technicians at Antioch CDJR encourage every Jeep, Dodge, Chrysler or Ram owner to regularly maintain their vehicles including oil changes to help prevent you from wasting large amounts of cash down the road.  

One of the most important and least expensive ways to protect your engine and improve your cars performance is to change your oil regularly.     

Oil provides three major functions including:
Reduce unwanted friction between parts
Draw heat away from the engine system
Take away carbon and varnishes toxic to the engine


Changing your motor oil every 3,000-5,000 miles is the best way to keep your vehicle running smoothly. No one knows your car better than the experts at Antioch CDJR service center. Our quick oil change service in Antioch includes conventional oil change, synthetic oil change and diesel oil change.
Synthetic Motor Oil vs. Conventional Motor Oil
Synthetic motor oil keeps your engine cleaner over time
Synthetic motor oil provides better protection for engine parts
Synthetic motor oil works better in both high and low temperatures
Synthetic motor oil lasts much longer


Getting an oil change in Antioch, IL has never been easier or faster with the experts at Antioch CDJR service center. If you are using conventional engine oil and thinking about switching to the synthetic or synthetic blend engine oil to boost fuel efficiency, our technicians will make sure the right blend is used for your vehicle. Print out oil change coupon above and make an appointment at Antioch CDJR today.