Chicagoland NEWS 2018 RAM 2500 Limited Tungsten for Sale in Antioch IL l Chicago area
Chicagoland NEWS 2018 RAM 2500 Limited Tungsten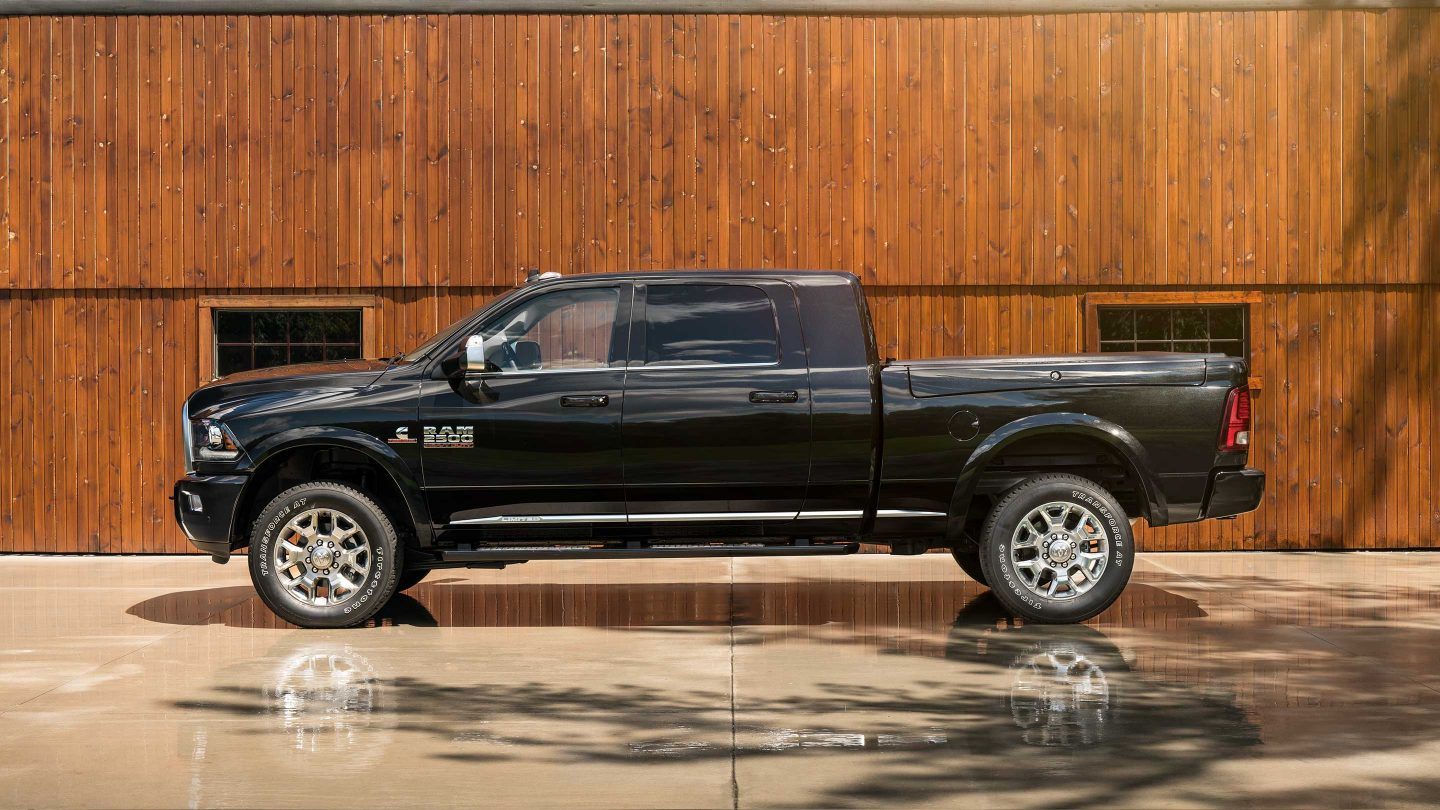 Vehicle Overview
If there is only one thing you take away from this review, know that the Tungsten is synonymous with luxury. This truck will power you through the most intense conditions and you'll feel like you're riding on a cloud as you tackle whatever the road throws at you. Come down and experience this amazing vehicle for yourself and you'll be able to explore all of the enhanced safety features and controls that are intended to help you get more done with your day. Come down and see all that this vehicle has to offer and you will be able to find the perfect vehicle for your situation. Check out our Antioch RAM specials and find out how you can get a RAM Limited Tungsten for yourself.
Interior
The moment you step inside this vehicle, you'll realize you're preparing for something truly unique. This monster is able to provide you with the best possible seating experience thanks to the supple black leather to give the vehicle a classic look. Or, you can stick with the standard tanned leather that is smooth and conforms to your body. Come down and experience one of the best sound systems available and revel in all of the technological features that are designed to keep you on task. Enjoy the option to use the 8.4-inch touchscreen and use Apple CarPlay support to ensure you have access to all your music. Test drive a 2018 RAM 2500 Limited Tungsten from our Chicagoland dealership serving Chicago Antioch Crystal Lake.
Exterior
Take one look at this truck and you'll fall in love. It is designed to be practical, functional and exceptionally beautiful. The truck offers an aerodynamic design that will help you make short work of the road. You'll also get chrome exterior mirrors that offer a courtesy lamp, heating element and memory to remember your preferred mirror setup. The mirrors also have turn signals attached so that even people who are at your side can clearly see your intention to switch lanes. Get behind this incredible vehicle and you'll be able to experience a feat of engineering that combines exceptional power, speed and functionality into one cohesive unit. You've never experienced anything quite like this in your life so get ready for an entirely new driving experience. Review our Antioch RAM specials and discover the amazing features of the RAM Limited Tungsten.

Mechanical
Experience the 2018 RAM 2500 Limited Tungsten from our Chicagoland dealership serving Chicago Antioch Crystal Lake. With the American farmer in mind, this truck has been designed to provide you with an exceptional level of power and functionality. Explore the options that are available in both the light and heavy-duty options and drive away with an outstanding workhorse. This truck can easily tow your tractor, handle most any conditions and provide you with some of the most effective tools to get more done on your farm. Give us a chance to help you select the truck with the right options for you and you'll love that you chose our dealership.
Powertrain
The 6.4-liter Heavy Duty V8 HEMI comes standard on this vehicle and you can get a more powerful engine if you need to haul some serious equipment. This vehicle is ideal for hauling a trailer so that you can enjoy the best of both worlds when camping. Park your trailer and take your truck to the local lodge to experience the best that the wilderness has to offer. If you want some additional power, go for the 6.7-Liter I6 Cummins Turbo Diesel Engine to help you get through more intense terrain and haul even more. The vehicle can also be equipped with an engine block heater to avoid dealing with cold starts and you can enjoy some additional axle options.
Safety
This truck is designed to be safe and secure. Enjoy the electronic stability control that makes it easy for you to control your vehicle. You'll also enjoy the ParkSense park assist system and the rear backup camera that makes it easier to see what's behind you. The vehicle offers a system to remotely start the engine and get it ready for you and you'll feel secure knowing there is a security alarm built right in. The vehicle also makes it safer to trailer with trailer brake control to ensure you maintain control of your vehicle at all times. Airbags are located throughout the cabin in intelligently placed locations to protect you from the most common and damaging types of accidents. The truck even has a tire pressure monitoring system. This vehicle is well thought-out and designed to keep you safe, secure and comfortable no matter where your travels take you. Take home a 2018 RAM 2500 Limited Tungsten from our Chicagoland dealership serving Chicago Antioch Crystal Lake.
Review our Antioch RAM offers to get a great deal on a new RAM Limited Tungsten. Trust our dealership to help you find the right vehicle for your needs and we will help you get the financing you need to take home a great new vehicle today. We want only to provide you with the best service and support so you have less to worry about. Call, visit or contact us online to find out how we can help you with your individual needs. We want to make sure you get a vehicle that fits your needs, so it's important you give us a call before talking with any other dealership.