New Jeep Research 2019 Jeep Grand Cherokee in Antioch IL for Sale in Antioch IL l Chicago area
Research 2019 Jeep Grand Cherokee in Antioch IL
Vehicle Overview
Built for excellence, the Jeep Grand Cherokee has been the king of the road since it was first introduced in 1992. Now in its 27th year and 4th generation, the Grand Cherokee continues to lead the way for design and build quality of full-sized SUVs. The 2019 version of the Grand Cherokee is set to be one of its most popular releases, given its plush interior, attractive looks, brilliant mechanics, powerful engine and reinforced safety.
If you find yourself interested in the Jeep Grand Cherokee, contact Antioch Jeep. Antioch Jeep is your Jeep dealer in Antioch IL, serving Antioch Gurnee Fox Lake Waukegan. Find your next 2019 Jeep Grand Cherokee in Antioch at our dealership!
Here is a review of what makes the newest 2019 Jeep Grand Cherokee such a stellar vehicle.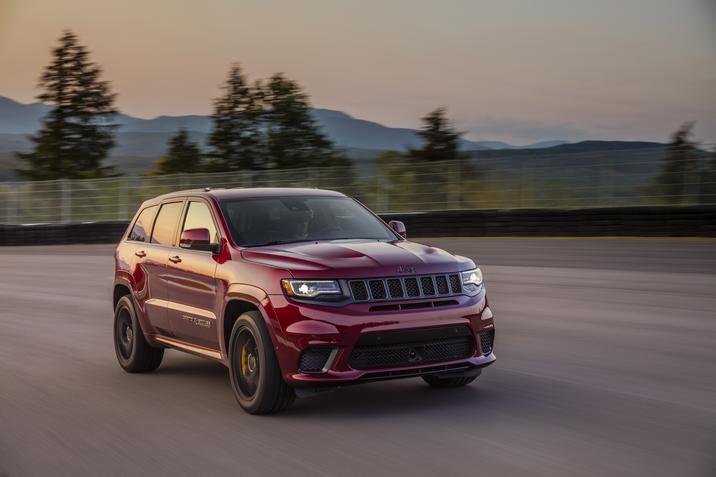 Exterior – 2019 Jeep Grand Cherokee
The exterior of the 2019 Grand Cherokee offers both the functionality you would expect from Jeep combined with rugged good looks. The Grand Cherokee has strong lines, aerodynamic curvatures and an aggressive posture tempered by its elegant styling. You can choose between a wide array of options for your tires, choosing between 17″, 18″ and 20″ rims of various shapes and colors. The Grand Cherokee has available Bi-Xenon headlights that function much better than any lighting alternative in night driving scenarios, giving you confidence and much needed vision. The 2019 Grand Cherokee is a great looking SUV that you can drive anywhere and in any condition. See for yourself by visiting our lot!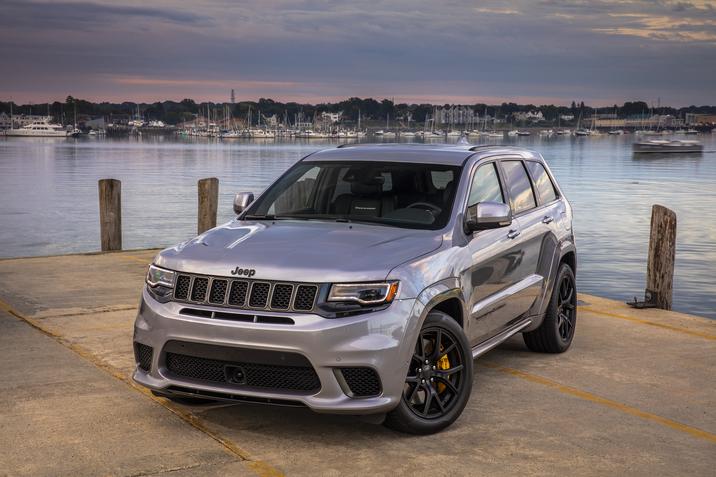 Interior – 2019 Jeep Grand Cherokee in Antioch
The Jeep Grand Cherokee has with the interior comforts and features you would expect from a luxury vehicle. The UConnect® platform works with a brilliant touchscreen to ensure your infotainment options are easy and accessible. The interior features nothing but premium, soft-touch materials. Leather and ventilated seat options are available across many trim levels. Only the finest leather adorns the seats and interior of the Grand Cherokee. The Jeep Driver Information Digital Cluster Display is available to replace the old dashboard with an easy to use digital option. The interior of the 2019 Grand Cherokee is as well appointed as any luxury vehicle on the road. If you want to verify that for yourself, visit our lot and find the 2019 Jeep Grand Cherokee in Antioch or contact us today!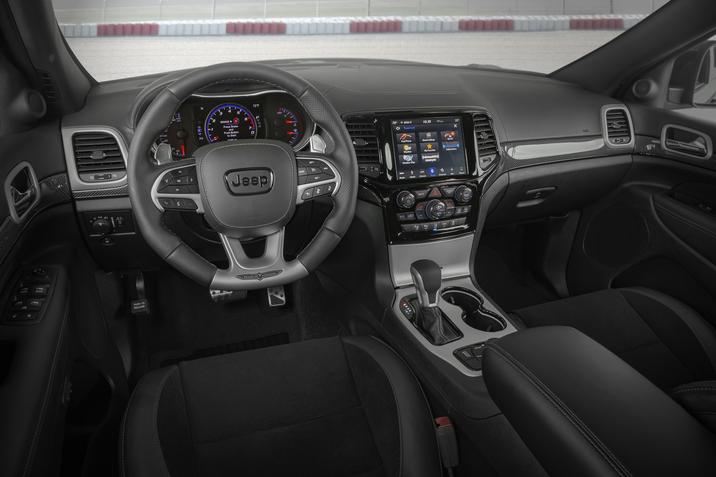 Mechanical – Jeep Grand Cherokee specs in Antioch IL
When push comes to shove, a SUV lives or dies by the fundamentals of its mechanical construction. The good news? The 2019 Grand Cherokee has the most impressive mechanical specs you'll find anywhere. The Grand Cherokee has stability, performance and capabilities thanks to its dynamic all-wheel drive system. The Selec-Terrain® traction management system intelligently operates how the 4×4 directs power to the wheels for the greatest possible grip in any weather condition. Dynamic ride height control is available with the newest Quadra-Lift suspension system, which raises or lowers your Grand Cherokee based on road conditions. High performance Brembo brakes ensure you have maximum stopping power at any speed.
If you want to schedule a test drive to feel this engineering for yourself, contact us. We are proudly serving Antioch Gurnee Fox Lake Waukegan.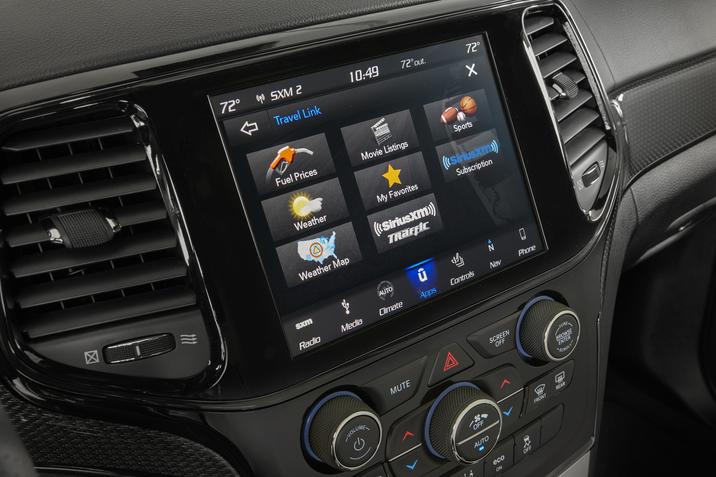 Powertrain – Jeep Grand Cherokee specs in Antioch IL
The 2019 Grand Cherokee offers absolute power. Spread across four separate platforms, the Grand Cherokee offers many options for whatever needs your next adventure requires. For starters, you can choose a 3.6L Pentastar engine with variable valve timing that produces 295hp and 260lbs of torque, or you can go with a 5.7L V8 engine producing 360hp and 390lbs of torque. More elaborate options exist, as well. You can opt for either the 6.4L V8 engine that produces 475hp and 470lbs of torque, or you can go big with the 6.2L Supercharged V8 that produces 707hp and 645lbs of torque. All engine platforms pair with the TorqueFlite 8-speed automatic transmission system. The Grand Cherokee is so committed to performance that you can even get an available launch control system to race off the line at your discretion. Test drive the Jeep Grand Cherokee today at Antioch, your Jeep dealer in Antioch IL.
Safety – 2019 Jeep Grand Cherokee dealer
All the gadgets, features, entertainment and additional fun are meaningless unless you know you can transport your loved ones or possessions safely. You can drive with confidence knowing the 2019 Grand Cherokee is among the safest cars on the road. The Grand Cherokee has an advanced traction control system that leaves its competition in the dust. No matter the weather, you will have the maximum amount of available brakes. The safety suite and driver safety features are staggering. Blind spot monitoring, cross and rear traffic monitoring, adaptive cruise control, pedestrian monitoring, a parkview rear view camera system, full speed collision warning, automatic intervening brake system, lane departure and lane keep system and, of course, parallel and perpendicular parking systems are in place. Built out of military grade reinforced steel, the Grand Cherkoee is as strong as it can be. The crash roll structure is as safe and secure as any crash structure on the road by design.
Conclusion
The 2019 Jeep Grand Cherokee is redefining what it means to be a full sized SUV. If the Jeep Grand Cherokee interests you, contact us. Antioch Jeep is the best option to find the 2019 Jeep Grand Cherokee in Antioch. If you are looking for a Jeep dealer in Antioch IL, serving Antioch Gurnee Fox Lake Waukegan, contact us.
Contact us today to get up to date price and financing options, or stop by the dealership to take a look at the Jeep Grand Cherokee for yourself. Schedule your test drive today!