New Jeep Why Lease 2019 Jeep Grand Cherokee near Waukegan IL for Sale in Antioch IL l Chicago area
Why Lease 2019 Jeep Grand Cherokee near Waukegan IL
Vehicle Overview
For years, the Grand Cherokee has been one of Jeep's best-selling SUVs, and it's also been one of the most popular SUVs in the world. You wouldn't think that the brand would feel the need to update one of its most iconic SUVs, but nevertheless the manufacturer still updated the Cherokee with more features in 2019. So if you are wondering "why lease 2019 Jeep Grand Cherokee," there are many compelling reasons. Now you'll get more standard amenities than ever before, and you also have more optional upgrades and add-on features. You can also ask about deals on a lease at Antioch Jeep serving Waukegan Illinois that make leasing and possibly owning a Cherokee in the future much more realistic. New features to look forward to in the latest Grand Cherokee include an optional V8 engine, connectivity in the form of Android Auto and Apple CarPlay, and optional luxury features including leather seats. There are also a number of standard and optional off-road features and packages that can get you and your Grand Cherokee through even the most challenging off-road terrain much more easily. And if you like to go boating or horseback riding on the weekends, note that this year's Grand Cherokee features some of the highest tow ratings in its class.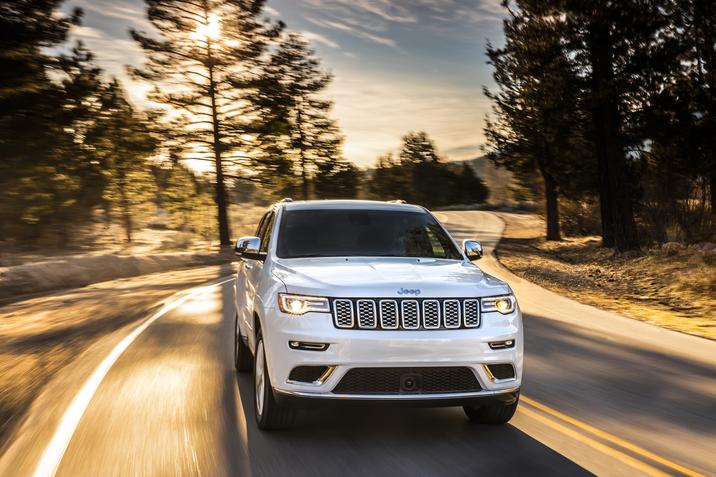 Exterior – 2019 Jeep Grand Cherokee
With its bold front grille, high ground clearance, and signature rounded headlights, the Grand Cherokee has historically been one of the most recognizable SUVs in the world. In 2019, the Cherokee still retains these characteristic features. But its exterior has also been slightly revamped and redesigned to keep up with the latest in modern trends and technology. This time around, you'll be able to find a 2019 Cherokee near Waukegan IL with standard 17-inch wheels, which you can swap out for either 18-inch or 20-inch wheels for a more unique look. Hand-painted aluminum wheels and granite wheels are optional upgrades to give your Jeep an even more elegant and distinct appearance. Powerful high-intensity daytime running Xenon headlights are available, as are rear head lamps with equally powerful lighting. These powerful lights, which are new for 2019, make the Grand Cherokee more visible than ever before and give you excellent nighttime visibility.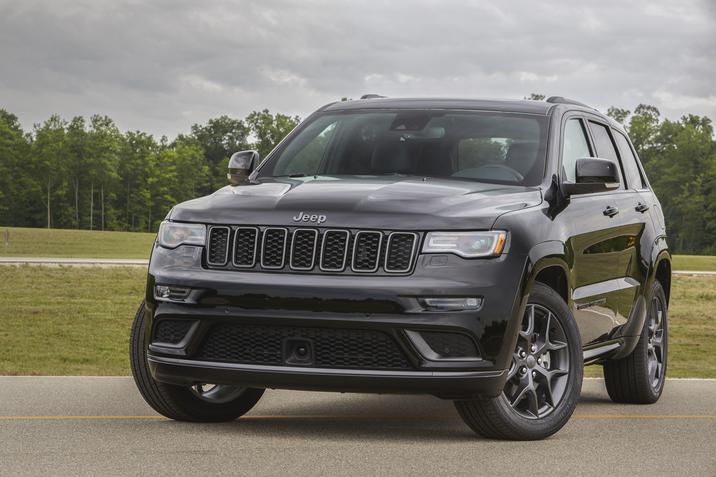 Interior – 2019 Jeep Grand Cherokee near Waukegan
On the inside, the 2019 Grand Cherokee has been given just enough updates to keep up with the competition without losing the Cherokee's signature styling. This year, the Cherokee features a luxurious, driver-oriented interior with features that include standard Apple CarPlay and Android Auto. There are also a number of device support and connectivity features on the user-friendly infotainment system. When you pair your phone with the interface, you'll be able to get directions through voice-activated navigation, listen to music downloaded on your phone, receive text messages, and send and receive phone calls. All this and more are available standard with Jeep's own Uconnect system, which provides the ultimate in creature comfort and driver convenience. Other notable interior amenities are the moonroof, which comes standard in some trim levels and is available in others. In the 2019 Jeep Grand Cherokee for lease at Antioch Jeep serving Waukegan Illinois, you'll also find available features like a larger 8.4-inch infotainment touchscreen with a voice-controlled navigation system. This handy tool also provides information such as local hotels, gas stations, and restaurants, which is especially helpful if you're traveling through a new area.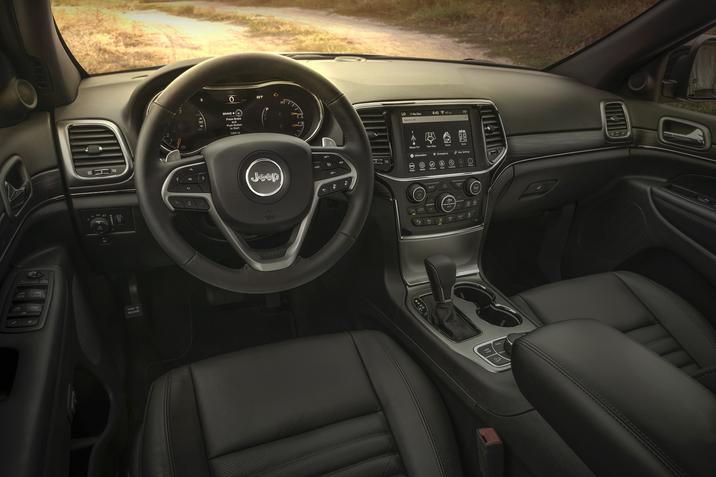 The Voice Command system, which gives you total hands-free access to the infotainment system, is another notable feature of the 2019 Jeep Grand Cherokee. Heated seats and leather seats, which are available in various color schemes, complete the interior amenities that the Grand Cherokee offers.
Mechanical – Jeep Grand Cherokee specs near Waukegan IL
When you lease the 2019 Grand Cherokee, you have a choice of four engines. The base engine is a 3.6L, six-cylinder engine that produces up to 295 HP and up to 260 LB-FT of torque. With this engine, you'll get a towing capacity of up to 6,200 LBS. The engine also features start-stop technology to use only as much fuel as needed. The second engine choice is a 5.7L, eight-cylinder engine that produces up to 360 HP and generates up to 390 LB-FT of torque. This engine can pull up to 7,200 LBS when fully equipped. Moving up, you can get a 6.4L, eight-cylinder engine that generates up to 475 HP and pulls up to 7,200 LBS. Lastly, the 6.2L, eight-cylinder, supercharged turbo engine provides maximal power and has a towing capacity of 7,200 LBS.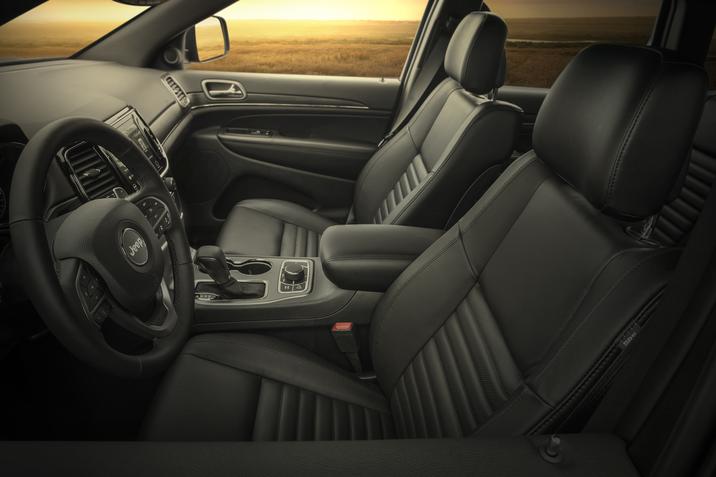 Powertrain – Jeep Grand Cherokee specs near Waukegan IL
The Grand Cherokee's engines are paired with an automatic transmission system. The Cherokee features high-performance brakes that bring it to a stop when needed. You also have a choice of five driving modes to get comfortably through the most challenging driving conditions. Standard Launch Control, which is available on select models, coordinates the car's key performance features to ensure you're in control.
Safety – 2019 Jeep Grand Cherokee dealer
Front, side, and roof-mounted airbags work to keep you and your passengers safe in case the Cherokee rolls or is involved in a collision. Driver-assist features in the Grand Cherokee include blind-spot monitoring, which is a standard feature, and rear cross-traffic alert, which lets you know if there are cars, bicycles, or pedestrians in your rear path of travel. A backup camera helps you reverse with confidence, while the frontal collision warning with brake assistance helps stop accidents before they happen.
So why lease 2019 Jeep Grand Cherokee? If you're looking to lease an SUV that's safe, sporty, and fun to drive, the 2019 Cherokee is certainly one to consider. This classic SUV gets just enough updates in the latest model year to make customers happy and keep up with the competition without losing the SUV's signature look and timeless appeal. When you're ready to lease one or take the Cherokee for a spin, don't hesitate to ask about the opportunity to lease at Antioch Dodge near Waukegan IL.