2018 Jeep Compass near Fox Lake IL for Sale in Antioch IL l Chicago area
2018 Jeep Compass near Fox Lake IL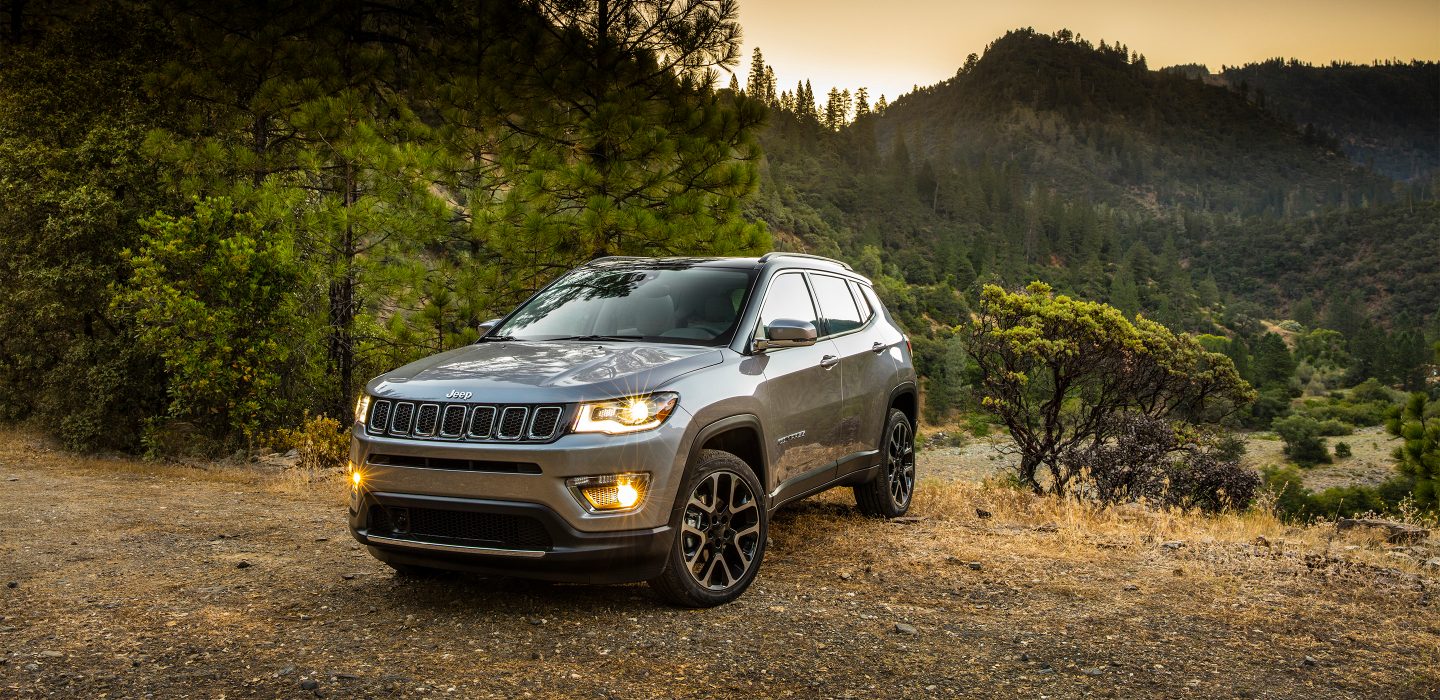 Overview
Antioch Jeep is currently serving Fox Lake Antioch Chicago Illinois Jeep customers who want a new 2018 Compass. This vehicle is one of the more affordable options that are offered by the company. The Renegade is slightly cheaper, but it costs less than the other flagship models in the lineup including the iconic Wrangler. It's designed to provide an option that is slightly bigger than the Renegade while replacing the previous model year Compass and Patriot models. The new vehicle is capable of crawling at a 20:1 ratio, and it has some substantial water fording capabilities that will certainly come in handy in the right situation. Come down and test drive this vehicle so that you can see all of the amazing features yourself.
Interior
Come explore the 2018 Jeep Compass near Fox Lake IL and take home a 2018 Jeep Compass today. These vehicles are fully equipped inside with a host of technologies that will make your driving experience more adventurous. This vehicle comes in several different models so you can pick the best option for your situation. You'll enjoy a level of refinement that isn't available in the lower-level Renegade mode. Enjoy two-tone color options and pick your interior color. The vehicle also comes with an 8.4-inch UConnect touchscreen display so that you can easily control all of your most important data and performance indicators. Come down and check this vehicle out and you'll be sure to fall in love with the exceptional style and performance of this incredible interior. Leather-trimmed seats with perforated inserts and optional heated front seats are also available on many of the various model offerings.
Exterior
Always aerodynamic, this vehicle is designed to look as good as it performs, The vehicle has smart and enticing visual cues that help give the vehicle more form and presence as it's coming down the road. You'll also get the option to select your exterior options like bright chrome molding and other upscale additions to make your driving experience feel just a little more elegant. Explore our offerings on the 2018 Jeep Compass near Fox Lake IL. This vehicle is as stimulating as it is captivating and you should fall in love with all of the features that are designed to help give you an edge on your driving experience. Come down and see everything this vehicle has to offer so you can decide on the options and model that works best for your situation. We want to help you get the vehicle of your dreams but you have to come down and see us.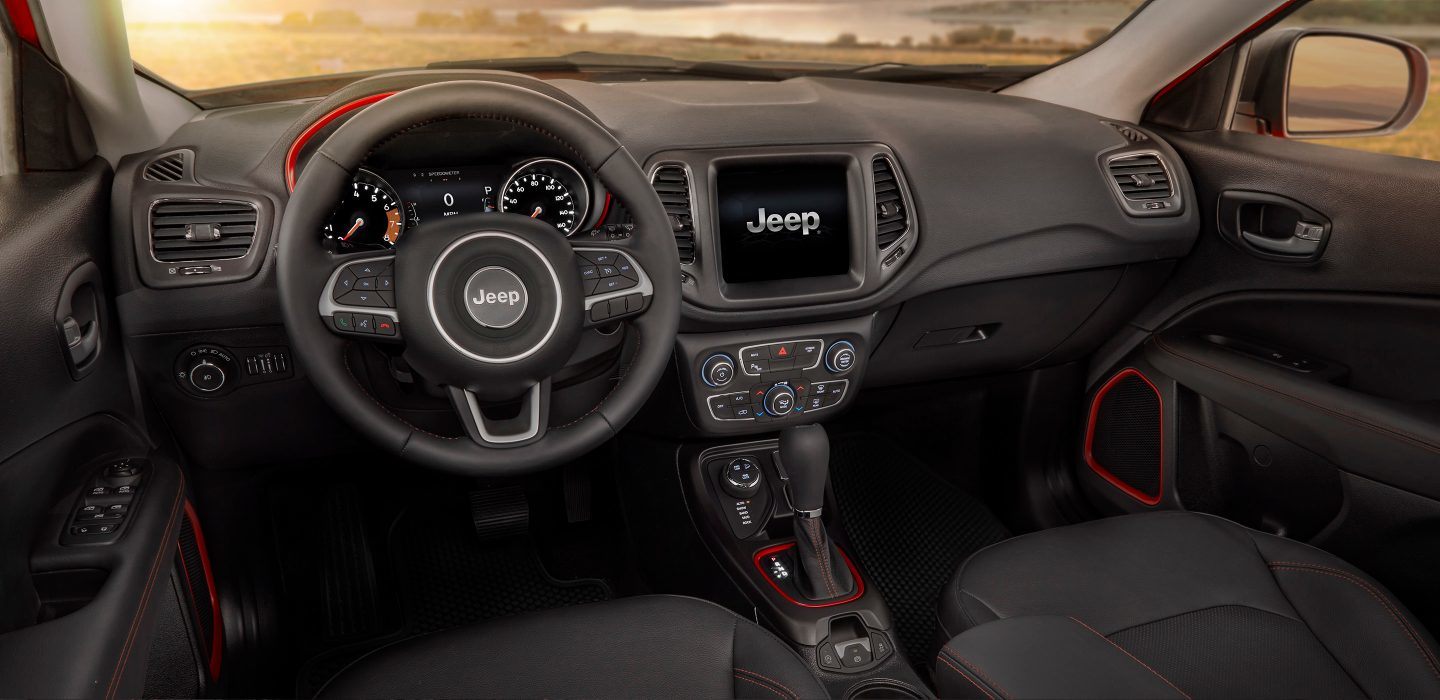 Mechanical
This vehicle is very capable and able to handle a variety of strenuous tasks. It was built from the ground up to be one of the most reliable and capable compact vehicles available on the market. It uses features like active drive to help you maintain a better overall level of stability. You'll also get the option of going with a 4×4 system to enjoy even better driving and maneuverability. The vehicle can handle a wide variety of trails, and it is certified to give a truly exceptional driving experience. Antioch Jeep is proudly serving Fox Lake Antioch Chicago Illinois Jeep shoppers with some exceptional offers on the 2018 Compass. From bold tow hooks to extensive off-road capabilities, you will be hard-pressed to find a better vehicle for your needs and situation. Come down and see the vehicle for yourself and take it out for a spin.
Powertrain
One of the most exciting engine options is the dynamic 2.4-liter Tigershark MultiAir 2 engine. This engine is designed to help you get outstanding fuel economy while still having the power and control to drive through rugged conditions. You'll find this vehicle is able to provide you with an outstanding level of functionality and the start and stop technology can further save you money when it comes to fuel conservation. The engine comes with the option of getting a manual six-speed, a six-speed automatic or a nine-speed automatic engine. The nine-speed option will give you better control at slow speeds to ensure you have some of the best control available. Find out more about the 2018 Jeep Compass near Fox Lake IL and test drive a 2018 Jeep Compass today.
Safety
When it comes to safety, you're well-protected in this vehicle. There are a host of options that are designed to help you get the most from your driving experience, and you'll love the airbags that are located strategically around the cabin. Come down and get to know the advanced technologies that are built into this vehicle so you can see how this vehicle is designed to protect you. You'll love the outstanding gripping features, reinforced cabin and defensive technologies that are designed to keep you safe and in control. Antioch Jeep has been serving Fox Lake Antioch Chicago Illinois shoppers for years.
We have the latest 2018 Jeep Compass in stock, but you need to act fast to get the best options and deals. Experience your 2018 vehicle options near Fox Lake IL and get to know this amazing new Jeep today. Come down to see how we can help you out with your next vehicle purchase. Our sales staff can advise you and help you select a vehicle that matches your personality and needs. Start exploring today and forge your own path with one of our highly capable new vehicles.